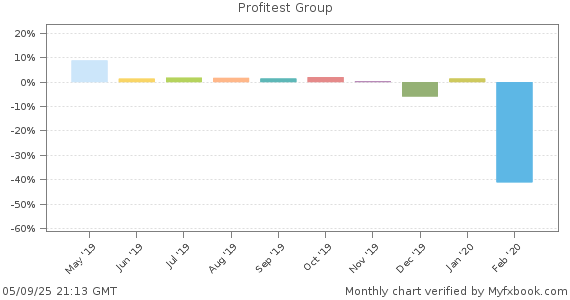 Profitest Group
โบรกเกอร์: Pepperstone (รองรับโดย ASIC, Australian Securities and Investments Commission
)
บัญชี: Standard account
Leverage: 1:500
ลงทุนขั้นต่ำ
: 3000$
เป้าหมายการลงทุน: ผลกำไรเฉลี่ยอยู่ที่ 1-3%
ความเสี่ยงสูงสุดที่รับได้: น้อยกว่า 20%
* กราฟแสดงถึงผลประกอบการในแต่ละเดือน โดย Myfxbook.com
หลักการและกลยุทธ์ที่ใช้ในการเทรด:
The EA is a safe and fully automated medium-term trading robot.
The EA does not use hedging, martingale, grid strategies, arbitration, etc.
The Expert System automatically analyzes the appearance of participants with distinct preference towards buying or selling on the market. Trades are conducted on strong cluster and news based movements. The robot automatically analyzes
Night scalping strategy by using RSI indicator and ATR-based filter.
The built-in spread filter manages slippages and spread extension. The Virtual Mode allows you to place orders and net profit levels without a broker.